Stimulsoft Reports Cloud
This is a cloud service for creating reports, storing, and viewing them without the need to write code and develop applications. With our cloud-based reporting tool, you can easily analyze, explore, and visualize your business data without programming.
Why Stimulsoft Reports?
It's easy
Just a few clicks are enough to turn the raw data into an understandable and stylized report. The intuitive interface, report wizards and built-in hints help you get started quickly.


It's fast
Our solution works very fast. The flexibility of cloud computing allows you to process thousands of data rows in seconds. The rendered report is almost immediately ready for viewing.


It's powerful
Are you looking for complex expression calculations, multi-level related data processing, interactivity, and subreports? Our reporting system will manage any tasks without problems.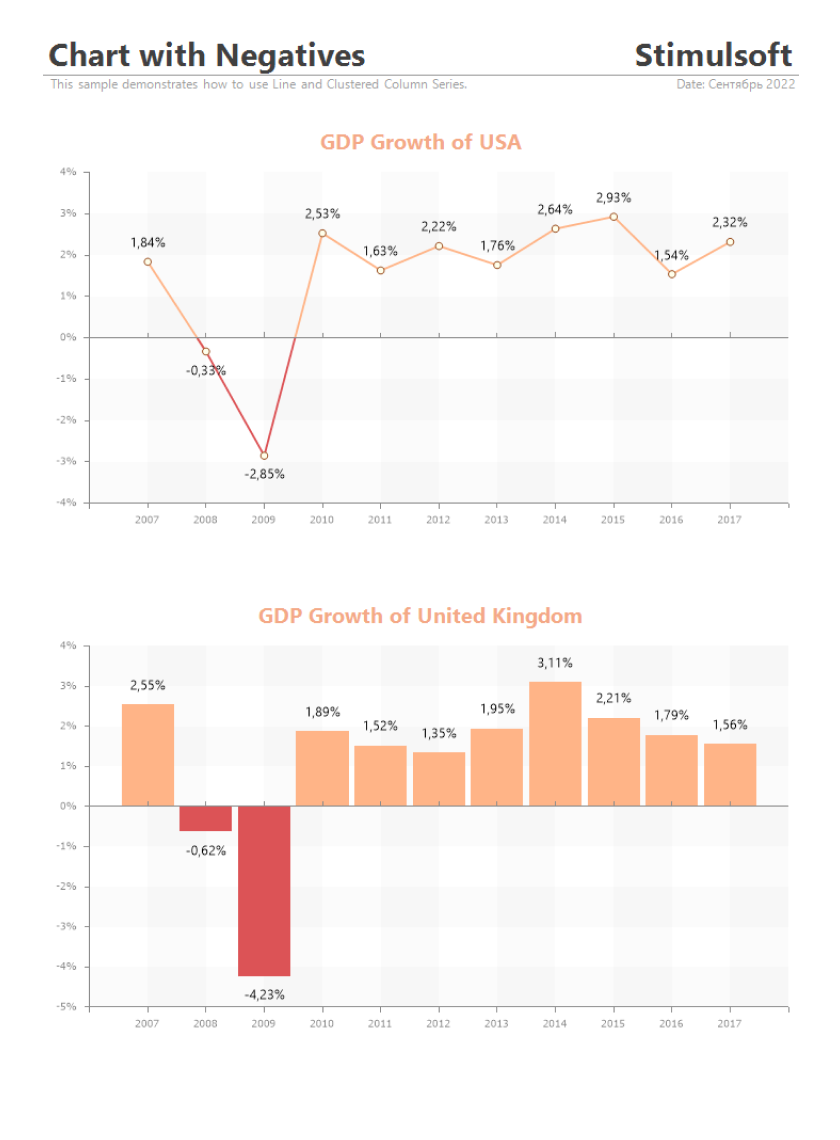 Reporting Data
Stimulsoft Reports Cloud supports various ways to connect data for reports. We support multiple data servers - MS SQL, Oracle, Firebird, MySQL, PostgreSQL, and others. Our cloud reporting solution can work with all standard types of ADO.NET, OData protocol, multi-level business objects. You can get data from XML, JSON, Excel, and other files.
The report generator prepares and converts data, supports virtual data sources, and has the ability to embed data directly into the report as resources. This is just a little of what the Stimulsoft platform can do with data.
One solution for any platform
Are you using a Windows desktop system or a macOS laptop or mobile phone or tablet? There is no need to learn the interface and basic approaches to working with reports! Our reporting system is suitable for working on any device and any operating system. Stimulsoft Reports Cloud uses standard reporting techniques regardless of the platform used.
Wide range of components
Using Stimulsoft Reports Cloud for your business, you can easily convert your data into understandable and stylized charts, add a style to your text, add barcodes, and etc. All reporting components are "perfectly selected" and complement each other, and have many properties for fine-tuning. Interactivity is available. Support for multiple languages makes UI and reports understandable to everyone!
---
Everything you need for the report design
---
Custom components
Texts, tables, barcodes, images, shapes, gauges, infographics - more than 50 different components for creating any reports.
Preset Styles
More than 30 preset styles and the ability to add your own will give reports the desired look.
Varieties of charts
A vast set of animated interactive diagrams and charts is available - histograms, pies, financial, treemap, and more than 40 other types.
Bar Codes
An extensive set of barcodes for professional reports such as EAN-8 and EAN-13, Code128, Pdf417, QR Code, and more than 40 other one- and two-dimensional types.
Export Formats
Without problems, you can save the report as a PDF, Excel, Word document, HTML page, data file, or image. More than 30 formats are available.
Report Localization
Any report supports globalization strings and will be automatically translated. More than 40 localizations are available. The language barrier is not a problem!
Viewing reports
The Cloud viewer is ready to display reports of any complexity - work with parameters, interactivity and detailing, vector animation, bookmarks, and other necessary functionality is available. At the same time, we tried to achieve maximum convenience when working with reports - the viewer has an intuitive interface and works great on almost any device - mobile phones, tablets, computers, projectors.
---
---
Interactive Reports
Use Stimulsoft Reports Cloud and spend fewer efforts on creating reports of almost any complexity. The functionality that helps you minimize the time of creating reports are parameters, multi-level drill-down, interactivity and animation, viewing and saving resources, and much more. Many built-in design styles are available for both individual components and the entire report.
Export reports to any popular format
Our cloud reporting allows you to save the report as a file quickly, send it by email or share it on social networks. Available formats are PDF, Word, Excel, Rich Text, Open Document, and more than the other 30 formats. You may configure any of the formats to set necessary export parameters like PDF/A, embedded fonts, digital signature, scaling, and much more.
Teamwork
Stimulsoft Reports Cloud perfectly fits for reporting and working in a team. Invite new members and design reports with them together. Open access to reports and make them available to your partners from anywhere in the world, and from any device. Assign roles to members of your team and set a password for viewing reports. This will limit access to confidential information.
History of changes
Using the Stimulsoft Reports Cloud, you can view the history of changes done in documents and, if something goes wrong, revert to the previous version. This is especially true when working in a team where several people can edit one document. Versioned reports increase reliability, and prevent accidental loss of the necessary information.
Automation
Stimulsoft Reports Cloud automation system allows you to create workflows and configure them to perform the required tasks in a fully automatic mode. Once you have established the job once, you can forget about the technical side and enjoy the result - the cloud reporting tool will do the rest for you.


Coming soon!
Stimulsoft Reporting Platform
Stimulsoft Reports Cloud is part of the Stimulsoft platform. Any report you create in your cloud space will work perfectly in any of our products on all available platforms. We tried to ensure the compatibility of reports as much as possible for a particular technology.
Stimulsoft BI Cloud
Work with reports without the need to deploy the application on your servers. Collaboration and versioning are available. We take care of the entire cloud system.
Stimulsoft Embedded
A full cycle of working with reports in your applications. Many supported development platforms. No deductions for distributing the app with our reporting tools. Runtime royalty-free.
Stimulsoft BI Designer
Universal application for working with data. The designer does not require programming skills and is ready to work on any computer and any platform. Desktop and online versions available.
Stimulsoft BI Server
A complete client-server complex for Business Intelligence. In our reporting server, you can manage users, assign access levels, process data, set up a schedule, and send reports by email.