What is Stimulsoft Reports.NET?
Stimulsoft Reports.NET is a multi-functional and fully customizable reporting tool designed to work in Windows Forms applications. Using our product in your application, you can create, edit, view, export, and print reports of almost any complexity, spending a minimum of efforts.

The structure of the product includes a powerful, but at the same time simple and easy to use report designer and interactive report viewer. Besides, the product contains a fully functional Web report viewer for the ASP.NET platform.
Ultimate functionality
When designing Stimulsoft Reports.NET, we tried to make the engine of the report generator very fast, multifunctional, and flexible. Thanks to the customers' suggestions and clients' requests, our reporting tool corresponds to what the customer wishes. A genuinely vast set of components and many options for customizing them are available for creating reports. Texts and expressions with RichText and HTML support, various types of images, more than 40 types of charts and graphs, more than 30 types of bar-codes, cross-tabs, maps, indicators, etc. Intuitive wizards will simplify the configuration of the rich functionality of the components in reports. Lots of helpful resources, such as manuals, samples, videos with various with various approaches to creating and editing reports will help you get started with Stimulsoft Reports quickly.

Despite the results achieved, we are not going to stop and continue to improve the report writer with each new version of the product!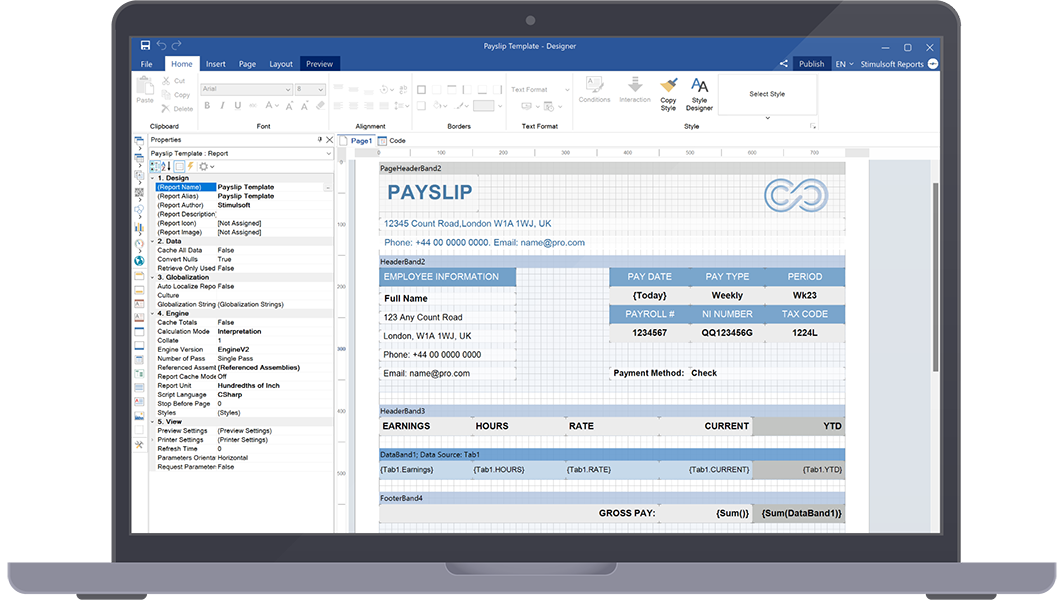 Report Designer
We believe that the report designer should be quick and easy-to-use because the speed of creating reports depends on this. Stimulsoft Reports.NET includes the designer with the characteristics described above! Convenient, modern user interface familiar to everyone. It supports for more than 40 languages, various wizards for creating reports and settings for report components – this and much more allows you to start creating reports immediately.
For the Stimulsoft Reports.NET product, the report designer is available in two versions - as a component for integration into projects which use the WinForms platform and a ready-made application for creating and editing reports on the computer of a developer, which is supported for
Windows
and
macOS
systems.
Data for Reports
Our product supports lots of ways to connect data to a report using both the report designer functionality and code. We offer a vast list of supported data servers – MS SQL, Oracle, Firebird, MySQL, PostgreSQL, and others. We support all standard types of ADO.NET, OData protocol, multi-level business objects. You can get data from XML, JSON, Excel, and other files.
Preliminary preparation and transformation of data, creation of virtual data sources, and the ability to embed your data directly into the report template as resources are available. This is just a shortlist of what our report writer can do with data.
View reports
Viewing a ready report is no less important as creating and designing it. The report viewer should be fast, convenient, and fully customizable. The report viewer is that very tool the end-users typically work. Our report viewer meets all of the above criteria. The component supports various modes for viewing reports, search, printing, exporting to more than 25 file formats, work with report parameters, interactivity, multi-level drill-down, and much more other features are provided. These features also apply to the Web component for ASP.NET, which is part of the product as well.
Integration
Stimulsoft Reports.NET is designed to integrate all the features of the reporting tool into WinForms projects. Using our components, you can create, edit, and view reports in your application. If necessary, any actions on the report can be performed using C#/VB.NET code. For tighter integration, there are many properties and events of both components, and the report writer itself. A fully functional component for viewing reports in an ASP.NET application is available.

We tried to make product integration in the project as simple as possible. You should install the necessary package from the NuGet repository, or download the package from our website to your computer and add the libraries required for the project. No additional modules and particular extensions are needed. All you need, the product already has. The product supports .NET Framework 4.5 or higher, or .NET Core 3.0 or higher.
Compatibility
Stimulsoft Reports.NET is the integral part of the Stimulsoft platform. Reports created in our other products will work in Stimulsoft Reports.NET and vice versa. You can create reports on a computer and continue editing them in the cloud with the help of the online designer. We have tried to ensure the compatibility of the reports, to the extent possible for a particular technology. Moreover, we offer tools for importing reports from files of other popular reporting systems into our universal internal format.
Best choice
Stimulsoft Reports.NET is, no doubt a powerful and convenient reporting tool for Windows Forms and ASP.NET platforms. High development speed, excellent performance, a lot of examples, and reporting methods allows you to get started right away. Look at the many specially selected reports in the Demo application, try to create your ones and make sure that this is exactly the solution you need.
Easy and quick start and intuitive work with components, low system requirements.Convenient Ribbon UI and support for drag and drop in the report designer.HIDPI support for high-resolution screens (4k monitors).Ability to place data and other resources in the report template.Built-in work with reports stored in the Stimulsoft cloud.Support for embedded reports both built-in to the template and external.Work with custom fonts and styles.A lot of wizards for creating reports and configuring components.Conditional formatting, changing the design of a report by the condition.Support for dot-matrix printing.
By purchasing our product, you get a multifunctional and flexible set of tools for working with reports in Desktop and Web applications. Stimulsoft Reports.NET does not require additional fees when using our components in your applications.
Stimulsoft Ultimate
Stimulsoft Reports.NET is part of the Stimulsoft Ultimate product, which is a universal set of tools for creating reports and dashboards using various technologies. Stimulsoft Ultimate is an excellent offer for those who use several platforms in application development, such as WinForms, ASP.NET, .NET Core, JavaScript, WPF, PHP, Java, and others.