Stimulsoft Dashboards
This is a powerful, flexible and easily customizable business intelligence tool for data analysis. Stimulsoft Dashboards is the best solution for displaying metrics in an understandable and readable form. You may embed our dashboards into your application.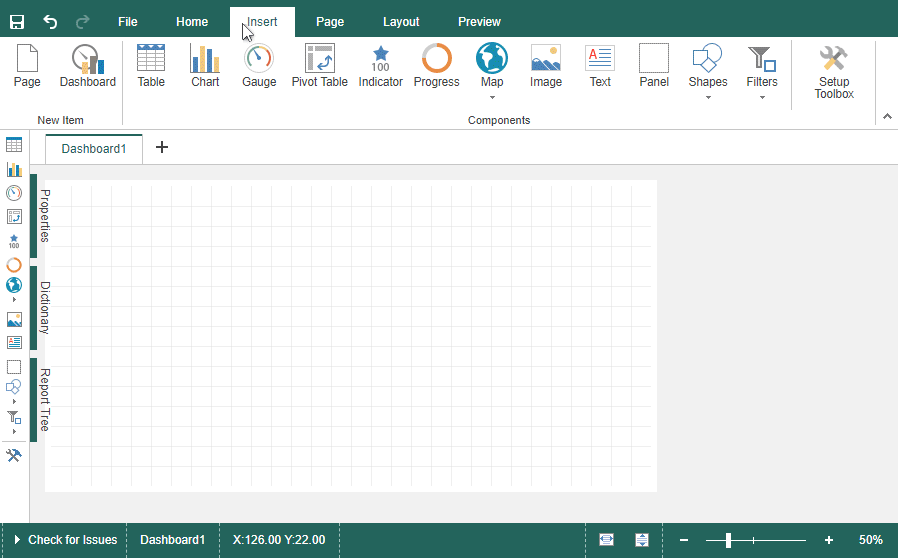 Why words? You have dashboards!
Create attractive, colorful, feature-rich and understandable to everyone dashboards. Display complex ideas and insights in a simple and accessible way. Raise your projects to the higher level using powerful tool for data analysis. All you need is to use Stimulsoft Dashboards.
---
Just look at how dashboards work
Components for Dashboards
Using Stimulsoft Dashboards, you can easily create informative and understandable panels using a wide range of components. All you need is to drag and drop the data to the appropriate fields and adjust them using a wide variety of properties. You can immediately use the document!
Chart

Add various types of graphs for data analysis.

Table

Create complex custom tables with totals.

Gauge

Measure your goals versus what you already reached.

Pivot

Quickly summarize large amounts of data in pivot tables.

Indicator

View summary statistics for Sum, Min, and Max values.

Map

Setup geographical coordinates for your analytics.

Progress

Provide insight into issues that have to be resolved.

Filter

Choose different views of data and narrow the scope of analysis.

This is a panda, and it feels good

Image, Text, Shape

Improve the look of your dashboard with text and lovely pictures.
Work with data
The dashboards components supports more than 15 types of data servers - MS SQL, Oracle, PostgreSQL, Firebird, and others.
Stimulsoft Dashboards support for ADO.NET objects, the ability to load data from XML, JSON, Excel and CSV files, work with business objects. Do not think about how to prepare data for the report - Stimulsoft Dashboards will do it for you.
Creation and viewing
Use our components on any platform – in Win applications, Web projects or JavaScript solutions. We support work with all major technologies – WinForms, WPF, ASP.NET, MVC, .NET Core, JavaScript, Node.js, PHP, etc.
9+

Supported
Platforms

17+

Customizable
Elements

11

Preset
Styles

41

Supported
Charts

18

Export
Formats

40+

Interface
Localizations
No doubt,
this is the best solution for dashboards
Evaluate the functionality of dashboards by checking already designed and specially prepared documents.
Integration
You can easily integrate Stimulsoft Reports components into your application; just a few lines of code are enough to make this work. Many samples of working with components and video tutorials will help you in this. The detailed user manual will allow you to understand the software functionality and how to use it in setting up report components.
Samples
Video
Documentation
Licensing
Simple licensing model – only the number of developers counts.
A license is required only for developers who work with our reporting tools.
There are no additional fees for distributing the application with our reporting tools.
The trial version is available and not limited in time and functionality.
Full set
Stimulsoft Dashboards includes three products designed for working with dashboards on various platforms. Every product consists of the data analysis engine for the specific platform it was developed, the dashboard designer and viewer.

Do you need to use several different technologies? Are you looking for tools to design reports and dashboards? Do you want to get all this at a reasonable price?

We offer you a great solution - Stimulsoft Ultimate.