We are proud to announce this year second release of
Stimulsoft Reports.Fx
product line version 2012.2. In this version we have implemented the encrypted connection strings, several new functions, send email option in the report viewer and many other features. Please read the description of the features implemented in the product.
Encrypted Connection Strings
New versions of Stimulsoft Reports.Fx stores all connection strings in the report as encrypted ones. This improvement will solve the problem with unauthorized access to the database through the report contents. Reports created in previous versions, will be converted automatically.
New Videos
Large number of examples of new videos has been added in our website. We have tried to show in them technics which are very interesting and the most demanding. Videos highlight the problems that arise when developing reports. See all videos
here
.
Design Report Button
We have added a special button to the viewer toolbar to call the report designer directly from the report preview. We believe this button helps to improve usability of your application!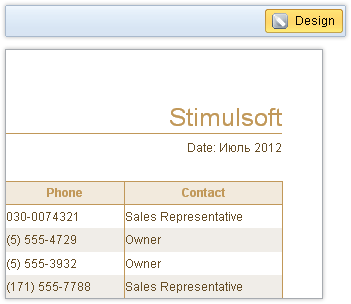 Send Email from Viewer
Now you can send E-mail with report directly from the Viewer component. We have added a special menu item to do this. You can send a report as PDF, XPS, Excel or other format which are supported in Stimulsoft Reports.Fx. You need to specify some E-mail settings before send E-mail operation.
New Functions
We have added the new functions to the report dictionary which are ToOrdinal, Years, AddMonths, AddDays, AddHours, AddMinutes, AddSeconds, and AddMilliseconds.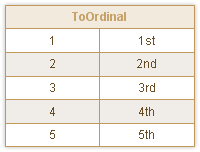 Shrink Font
New properties are added to text components. These are ShrinkFontToFitMinimumSize and ShrinkFontToFit. You can fit text into the text box rectangle with help of these properties.
Digital Signature
Starting with the version 2012.2 all our packages are digitally singed.
Bookmarks in Reports
Now you can use bookmarks in your reports. You can organize a table of contents in report. Also bookmarks can be used for internal report navigation.
New Chart Styles
New chart styles are added to Stimulsoft Reports 2012.2 – Style20 and Style21.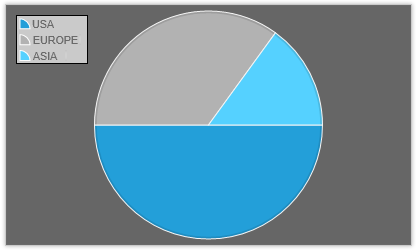 Text Rotation in Charts
Rotated text is now supported in the report charts.
Drill-Down Reports is Added
The report with drill-down possibility is the one in which the individual elements can be output in more detail by clicking on them. So the new report will be rendered in a separate tab, which will display the detailed data.
Range Variables
To extend the functionality of the reports in the new version, we have essentially improved the RequestFromUser option for the variables. Now, you can use range report variables. For example, you can use date range parameters. This enhancement simplifies using reports with parameters.