Whatever you do, it is always difficult to begin to begin something, especially when it comes to learning a new software product. This small series of articles is intended for novices in report generation in Stimulsoft Reports.
In these articles:
1) Review the most primitive but, at the same time, necessary features of the reporting tool.
2) We will try to avoid using intricate words and phrases.
3) Get pleasure of learning and using Stimulsoft Reports products.
Let's start with exporting reports. It would seem what tough is in it? The correct answer is - nothing. We explain brick by brick to make everything clear.
Perhaps one can be confused with the word "export" but, in our case, it is a synonym of "saving". The whole point of the report export (as some developers name exports as imports and they are right on their own way) is that we can export (save) a report in different formats. Why do we need this?
The matter is not even in quantity, but in quality and quantity, because in different situations formats of every stripe may require.
A small peculiarity - you can only export an already rendered report.
Accordingly, the export is carried out of the report viewer dialog using the Save button of the toolbar.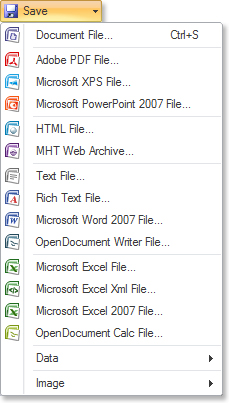 Further in drop-down list of the context menu, you can select the document format in which you want to export the report: HTML, Text, Microsoft Excel file and many others. We can save the report, as data, the Data category exists for this. It is also possible to save the report as a picture - Image.
After selecting one of the proposed exports, a dialog with export parameters appears. There you may find individual settings of each species. You need to know only two points: the OK button and the flag "Open after export."
Then the report will be saved in the specified path. If you check the flag "Open after export", the report is opened to you in all its glory.
As promised, that's all with exports, nothing complicated. Follow our articles, you will find many interesting things.