---
What is Avalonia UI?
Avalonia UI is a .NET-based framework utilized for developing cross-platform user interfaces. Avalonia employs a universal API for constructing applications, providing support for all major platforms and runtimes, and boasting its distinctive interface. Thanks to these attributes, Avalonia UI facilitates the creation of scalable applications with native performance, a consistent interface, and abundant functionality. These attributes extend to the components used for report management within Avalonia UI applications, offering extensive capabilities, an appealing aesthetic, and customizable options to align with your business objectives.
This new product will soon be integrated into our ecosystem.
Product "ingredients"
The reporting tool for the Avalonia UI framework comprises a robust data processing engine and an interactive viewer that offers support for multi-level drill-down options, sorting, data grouping, and a lot of additional features. Furthermore, within this new product, all export formats for the generated reports are accessible, including PDF, Excel, MS Word, and etc. Additionally, it incorporates support for all the data formats used in Stimulsoft for connection, such as MS SQL, Firebird, MySQL, PostgreSQL, XML, JSON, and various others.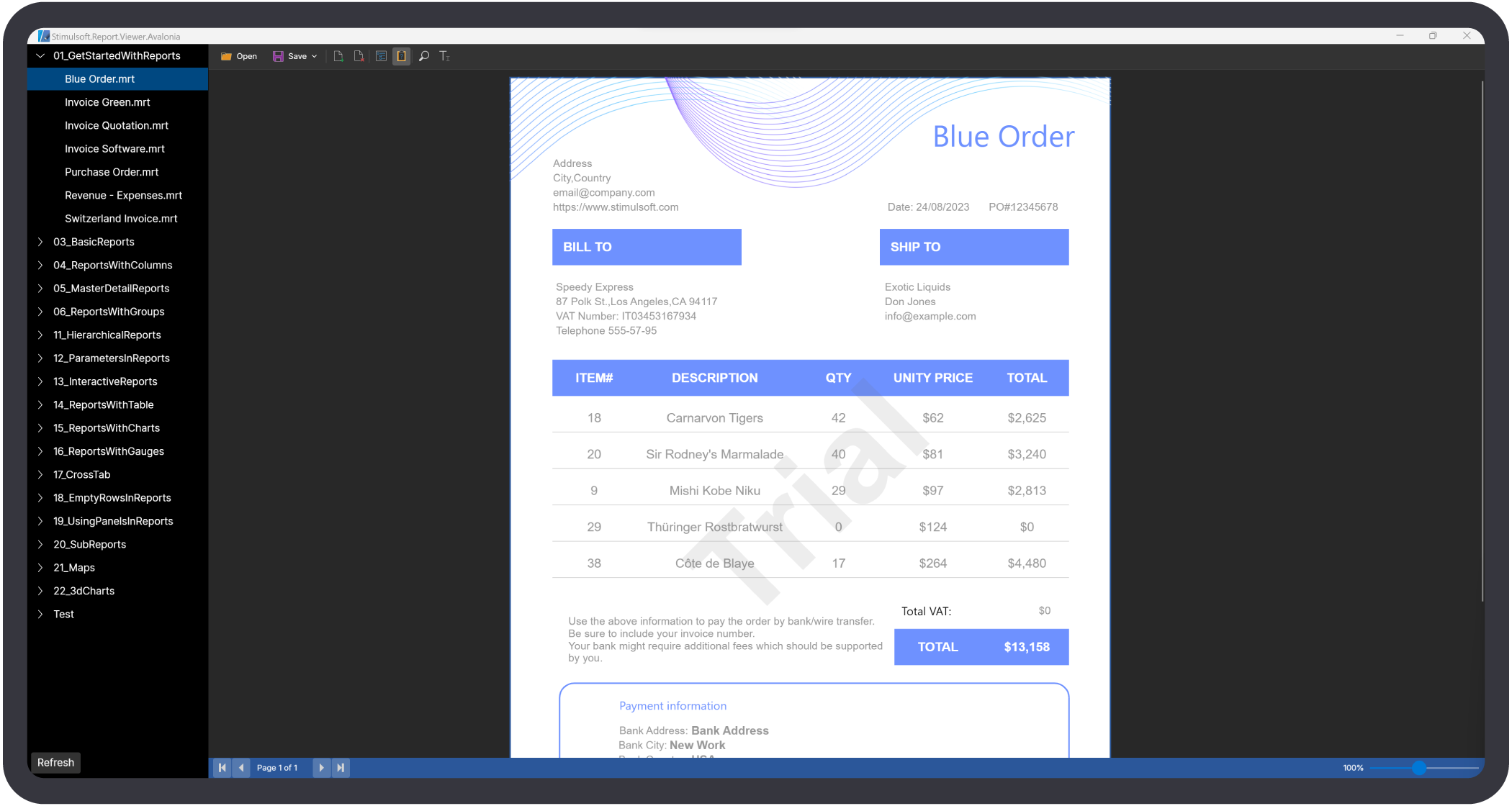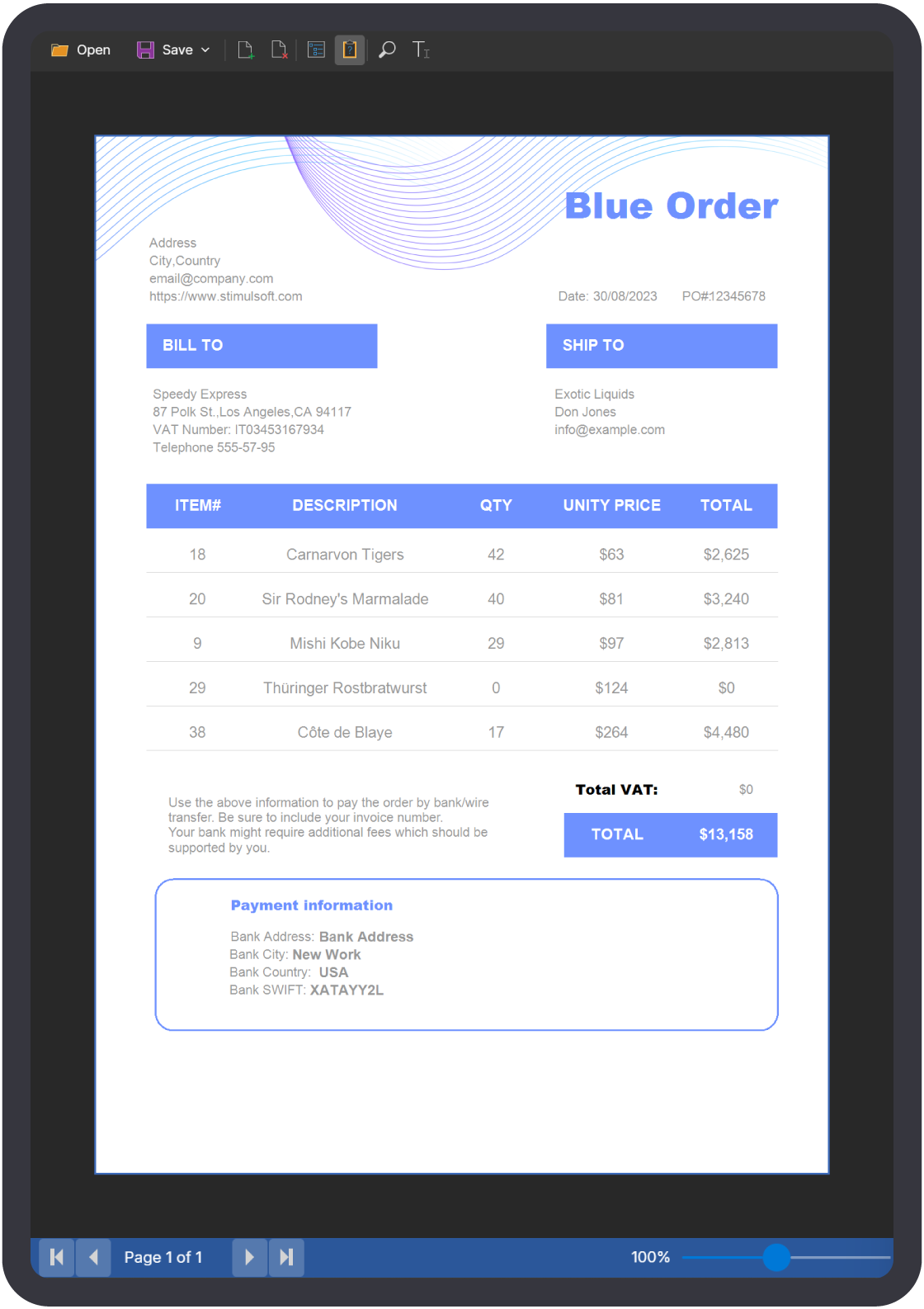 Features of Stimulsoft Reports.AVALONIA
Our new product can be integrated into applications and services developed using Avalonia technology on the .NET Core, .NET 6, and .NET 7 platforms. Leveraging the capabilities of the framework, our reporting components offer extensive functionality, an appealing appearance, and the potential for customization and scalability in alignment with your objectives.
---
Stimulsoft Reports.AVALONIA is an ideal fit for your project if:
you are building a product on contemporary platforms, including .NET Core, Avalonia UI, .NET 6, and .NET 7;
you seek swift attainment of desired outcomes, allowing you to select from a wide array of pre-designed solutions and use them to meet your specifications;
your requirements involve tight integration of reporting tools within your application, accompanied by flexible component settings and visual design;
you aim to complete control over user interactions and all stages of report handling;
your solution should combine two critical dimensions: maximum functionality and high speed.
Integration and features
Utilizing Reports.AVALONIA enables you to view, export, and share reports within your application. Furthermore, any interactions with the report can be executed using C# code. For enhanced integration, we provide a multitude of properties and events within both components and the reporting tool. Additionally, the product features specialized functionality for report viewing within Avalonia applications.

We have done our best to ease the integration process to make it as straightforward as possible for your project. Simply download the dedicated, free extension for Visual Studio & JetBrains Rider. No supplementary modules or specialized add-ons are required – everything you need is already encompassed within the product. The report writer for the Avalonia framework is compatible with .NET Core 3.1, .NET 5, .NET 6, and .NET 7.

Part of Stimulsoft Ultimate
The reporting tool Stimulsoft Reports.AVALONIA is included in a subscription to the Stimulsoft Ultimate product, an all-in-one collection of components designed for analytics and data visualization across contemporary platforms. Stimulsoft Ultimate suite spans JavaScript, ASP.NET, .NET Core, Java, PHP, Blazor, Angular, WPF, WinForms, and several others.