We are glad to announce that Stimulsoft has won two awards from ComponentSource — Top 50 Publisher Award and Top 100 Product Award.
Publisher Award
Stimulsoft –
Top 50 Publisher Award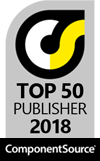 Product Award
Stimulsoft Reports.Ultimate –
Top 100 Product Award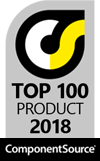 We would like to thank all of you, our valuable clients, who are our friends and colleagues. Without your continued support and active participation in products development, we would never be able to create such products and get these awards.
Top 100 Bestselling Awards for 2018 from ComponentSource are based on the following criteria:
- total sales USD $ order value for the individual product
- for sales made to our customers in over 180 countries worldwide
- less the value of any refunds made due to issues with the product
- between the dates Jan 1st, 2017 to Dec 31st, 2017 inclusive
- sales made in non-USD $ currencies have been converted into USD $ to get a final total value
- the list has then been sorted and the awards made based on the ranking achieved
- the awards were announced in 2018, hence we use 2018 in the Award name
ComponentSource pioneered the open market for reusable software components and tools, through innovative use of electronic software delivery (ESD).
Today, they offer the world's best collection of labor saving software through their eCommerce Web Sites; carrying over 10,000 SKU's from 250+ Publishers.