We continue to acquaint you with the new functionality, which has become available in Stimulsoft reporting and data analytics tools since the 2022.2 version. Today, we're going to tell you in detail about a new feature of visual QR code customization.
Barcode
Barcode is encoded information in a graphic view, which can be decoded using special readers.

The most popular barcode this day is QR code. It's hard to imagine an area in which this barcode type is not used at the moment – from industry to banking, from healthcare to museums. Such popularity of QR code is explained by the ability to code different information of huge volumes and the ease of reading the information. Most modern mobile devices can decode QR code by standard means.

Sample of invoice in banking with a QR code, which contains additional information.
Also, it's worth noting the prevalence of QR codes in the era of the COVID pandemic for vaccination passports and PCR tests.

Sample of a PCR test report using a QR code.

Now, we're going to tell you about the use of QR codes in reports and about new features for them. Using this barcode type can be different and is actually limited only by the imagination of a report creator. Nevertheless, its main task is to code specified data when report creation.
Data
In our reporting tool, QR code is one of the types of the Bar Code component. Using this barcode type, you can code various data - some texts, URLs, and expressions. When working with some text and links, everything is simple – specified data will be automatically coded. The work with expressions opens more possibilities. If you specify an expression in a barcode code, the report generator will process this component and its expression when creating a report. The result of the calculation of the expression will be encoded in a QR code, which you can get when you read it. The expression can also be a link to a data column. Did you know that?

The Bar Code component in a report doesn't have its own Data Source property. However, when placing this component on the Data Band, it will be printed as many times in the report as the Data Band is printed. For each copy of the Data Band in the report, the barcode expression will be calculated, and the result will be encoded and displayed in the rendered report using the Bar Code component. This way, using QR code and the Data Band, you can display information in a report from a data source.Our users have known these features for a long time, but we have added a functionality of visual QR code design in the new version. Next, we will tell you about that.
Visual design
The
Bar Code
report component contains different design settings. You can define the component border, background color, and graphic elements color for it. Also, you can define barcode rotation level, enable quiet zones, etc. All these features apply to all barcode types. A new feature, in this case, is the ability to design structural QR code elements visually.
QR code consists of several structural graphic elements. Firstly, each code has a body in which data is encoded using visual elements. Secondly, a code has search zones, which are called code eyes. The eye is a graphic element in a frame. You may customize all these structural elements.
QR code visual design is customized in the QR code component editor. All visual QR code customization properties are added to the
Appearance
group in the component editor. You can change graphic elements using the
Body Shape
,
Eyeball Shape
, and
Eye Frame Shape
properties. Each property contains its own set of QR code shapes. Using them, one or another graphic element of the QR code will be drawn. Also, you can define
Brush
and
Color
for each structural element to draw it.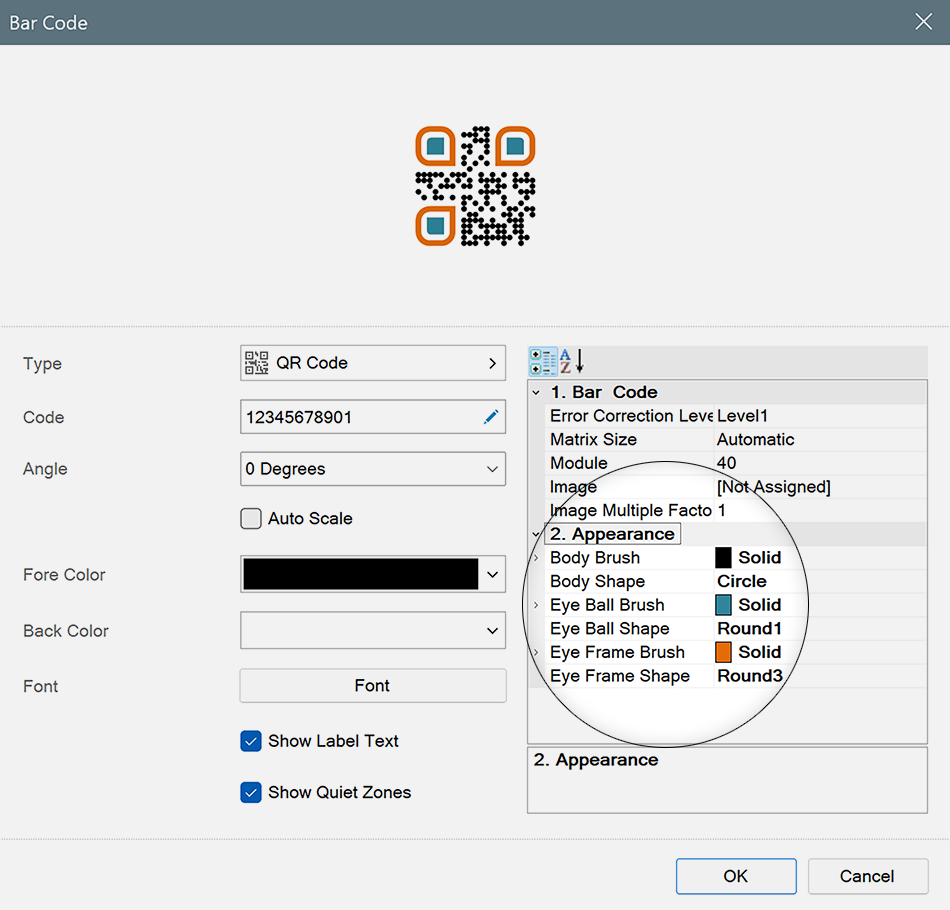 ---
---
---
---
---
You can see several samples of invoices with a visual QR codes design on our website.
More samples of reports with QR codes, you can find in our online storage by the «QR code» request.
Reminder!

In addition, you can load an image for your QR code. This, coupled with the functionality mentioned above, opens up excellent capabilities for creating a unique QR code in your reports. However, don't forget that the capabilities of your reader, in this case, can limit customization and the functionality, which are available in the Stimulsoft report generator.
There is a video instruction with a description of the QR codes customization functionality on our YouTube channel.
We hope that the article was helpful to you. If you have any questions, contact us, we will be glad to solve your problem.