We continue our story about the new version of Stimulsoft products 2022.1, which was released on December 8.
---
Introduction
Barcode is one of the best ways to store and read information. They are also widely used in reporting tools.
Barcodes are of two types:
linear (1D)
and
two-dimensional (2D)
. Linear barcodes are a series of parallel black and white stripes of varying widths, and information is read-only horizontally and in small quantities. 2D barcodes, on the other hand, contain information both horizontally and vertically to encode large amounts of data - up to several pages of text. Two-dimensional barcodes include, in particular, DataMatrix, Maxicode, and, perhaps, the most famous QR code today.
---
In the Stimulsoft reporting tool
you can create the documents, which contain a barcode:
Checks;
Labels;
Various contracts and others, including postal documents, which are designed using barcodes.
On labels, barcodes are used to quickly check the goods against the database, on receipts - for control, and so on. In addition, the report designer provides work with postal barcodes. The main difficulty here lies in the fact that each country has its standards for its design.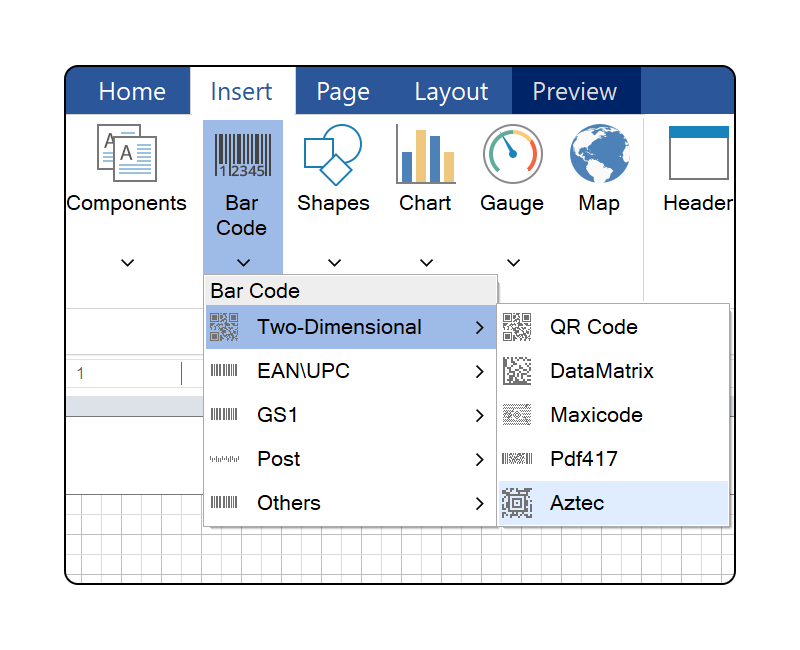 Kinds of barcodes in Stimulsoft
The report designer contains 5 basic barcode categories:
Two-Dimension;
EAN/UPC;
GS1;
Post;
Others.
Additionally, each of them has many subcategories.
---
Here is the visual example of using a two-dimensional barcode one when creating a report with Invoice and with labels:
---
New barcodes in the version 2022.1
We added new types of barcodes:
Intelligent Mail USPS 4-State
and
Aztec
to version 2022.1 of Stimulsoft Reports and Dashboards.
Intelligent Mail USPS 4-State is used to sort mail in the US Mail Service automatically;
Aztec is used in railways, airlines, government documents, and automatic data recognition.
Let's figure out how to work with the new barcodes in our reporting tool.
The editor contains the following options:
---
Type
It allows you to change one type of barcode to another.
---
Code
Using this option, you will be able to type a value, which will be encoded by a barcode. You can type a value as text, number, or expression.
---
Angle
This option allows you to set the barcode rotation angle. It has 4 tilt levels - 0 degrees, 180 and 270. With each tilt, your barcode will change.
---
Auto scale
The option allows you to stretch a graphic code within the barcode component, respecting its aspect ratio.
---
Fore color and Back color
The option is applied to change the barcode text color and its background.
---
Font
It sets a font for a barcode and defines its style and size.
---
Show Label Text
Having activated the option, you will be able to display some signature for your barcode.
---
Show Quiet Zones
Quiet Zones is the empty space to the left and right of the barcode and is the conditional start and end of the barcode for readers. This option enables or disables the Quiet Zones barcode.
---
We have prepared a video about the new barcodes for you. It is available on our YouTube channel - watch, leave comments, subscribe.



We hope that this article was helpful for you and now you know a little more about the new barcodes of the last version of Stimulsoft products. If you have any questions, contact us – we are glad to help you!