We are finishing our series of articles about the new
Stimulsoft Reports and Dashboards 2021.3
versions of products.
---
What is Google Analytics?
Google Analytics is a web analytics service that provides statistics and basic analytical tools for SEO and marketing purposes. To start to work with it, you should place the JavaScript code on the page of your website, which will give you information about the website visit to a webmaster. The service records website visits, user paths through pages, time spent on them, traffic sources, etc.
Simply said, using the Google Analytics webmaster may find out:
Location of users;
The language they speak;
The browser and the operating system that he uses;
Traffic source, how a user comes across your website. For example, a user can come across it due to organic search, having clicked on an advertisement or having followed a link from social networks, etc.
Next, you can track the behavior of users on the website - pages they visit, the time they stay, whether they make specific actions, for example, fill a registration form, add products to a cart or subscribe to a newsletter. With the help of this data, a webmaster analyzes the effectiveness of channel traffic, website page quality, CTA, call-to-action buttons, and other indicators.
Stimulsoft and Google Analytics
Google Analytics is a rather complicated service for working and learning. The number of views, metrics, various pieces of data is several hundred, and, frankly speaking, not all of them are needed by most analysts, marketers, and webmasters.

Stimulsoft products allow you to create custom dashboards and reports, which visualize and analyze the data you need. Now, this also applies to metrics and views of the most popular web analytics service. You can only display and analyze data that is of direct interest to you and your business.
Google Analytics data connection
In the 2021.3 version, we have added the capability, which allows you to get data for a report or dashboard from the Google Analytics web service. When connecting a new data source on the Google tab, the Google Analytics connection type is available.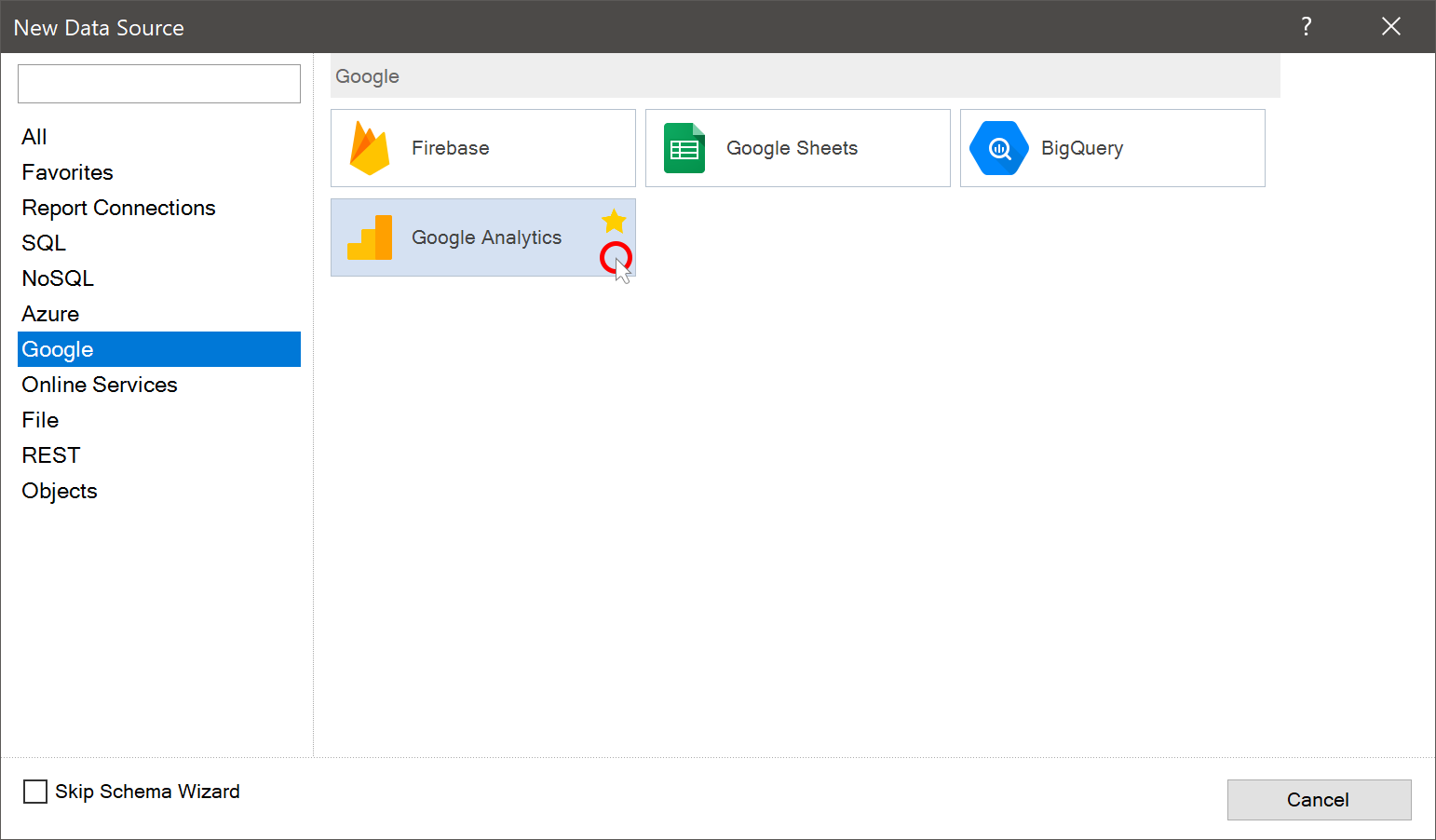 Next, you should get the Service Account Key File from the service. This account should have permission to view GA data. After, the Stimulsoft report generator gets all necessary information automatically, and you select metrics and dimensions. You select the metrics you want to display and analyze. As a result, a data table will be generated and on the basis of it, you can create a report or a dashboard.
---
We have prepared a video with detailed instructions on connecting data from Google Analytics into the Stimulsoft report designer.
Besides, Stimulsoft products have data analytics tools. Among them, you can find various types of charts: pie and doughnut, Pareto, funnel, Box and Whisker, clustered column, line, area, indicator, gauge, progress, table, map, etc.
---
We hope this article will help you understand the capabilities of the new Stimulsoft products version and connecting data from Google Analytics. If you have any questions, contact us – we will be glad to solve your problem.