We are glad to announce the next official release of
Stimulsoft Reports.Fx
. The new version comes with a number of changes aimed on creating products with more features and capabilities. Please read below the detailed description of the most important implementations.
New Option Bands Filter in Settings Menu of Export to CSV
The option Bands Filter applies a filter to the report during the export to the CSV format. If you select the value Data Only then only Data bands will be exported (tables, hierarchical bands). If you select the value Data and Headers/Footers then not only Data bands will be exported, but also their headers and footers. If you select the value All Bands then all report bands will be exported.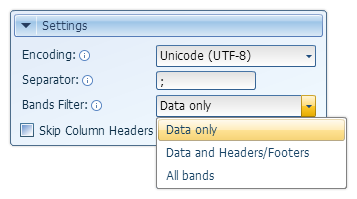 New Charts
In all reporting tools of the product line Stimulsoft Reports.Fx a new type of chart, Funnel Weighted Slices, is now available. This type of chart expands the features of the Funnel chart displaying data in a different form. Unlike the Funnel chart that displays data as blocks of the same height, the Funnel Weighted Slices displays blocks of different height depending on the data provided. The Funnel chart is used to analyze the level of sales in a company.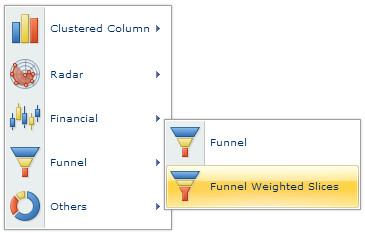 Dialog Box to Send Reports by Email
Now, when selecting a report format from the menus of export options dialog, you may see the send Email dialog where you can enter an email address, letter subject and text. This input dialog of Email sending parameters has been added for Flash components.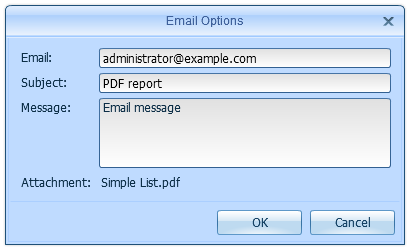 New Option AutoPageScale
When printing the option AutoPageScale allows you to automatically scale the report page on the entire paper area. This option will make your work much easier in case there is no need to strictly comply with the sizes of all report items on the different sizes of paper. The report will always be printed on the entire area of the paper.
It is important to know that the option AutoPageScale is enabled by default in the viewer. Therefore, if you need to strictly keep the paper size when printing report items (e.g . bar-codes) then you should disable this option.
By the links below you can see the full list of changes and download the latest version of the products
Stimulsoft Reports.Fx for Flex
Stimulsoft Reports.Fx for PHP
Stimulsoft Reports.Fx for Java
In addition, we have prepared some
Christmas Presents
for you.